Whole unit
Designed by EURO standard, based on the high requirement, high reliability, and safety

Computerized control, orders in storage, quick order change, easy operation

Wall made by high grass steel, 65mm thickness, remove internal strength and processed by CNC machine center.

Full stainless steel cover for operating side, anti-corrosion, easy cleaning.

All gears made by Taiwan top brand, high precision, easy cleaning.

Spray type lubricating system, lubricating oil; auto balance

Memory function for all print, slot, and Dia cut unit, auto position return

The main drive part applies the key-less ring to reduce abrasion and maintain print registration accuracy.

All the bearings are Japanese and German Brands.

All the electric components are famous Euro brand with quality guaranteed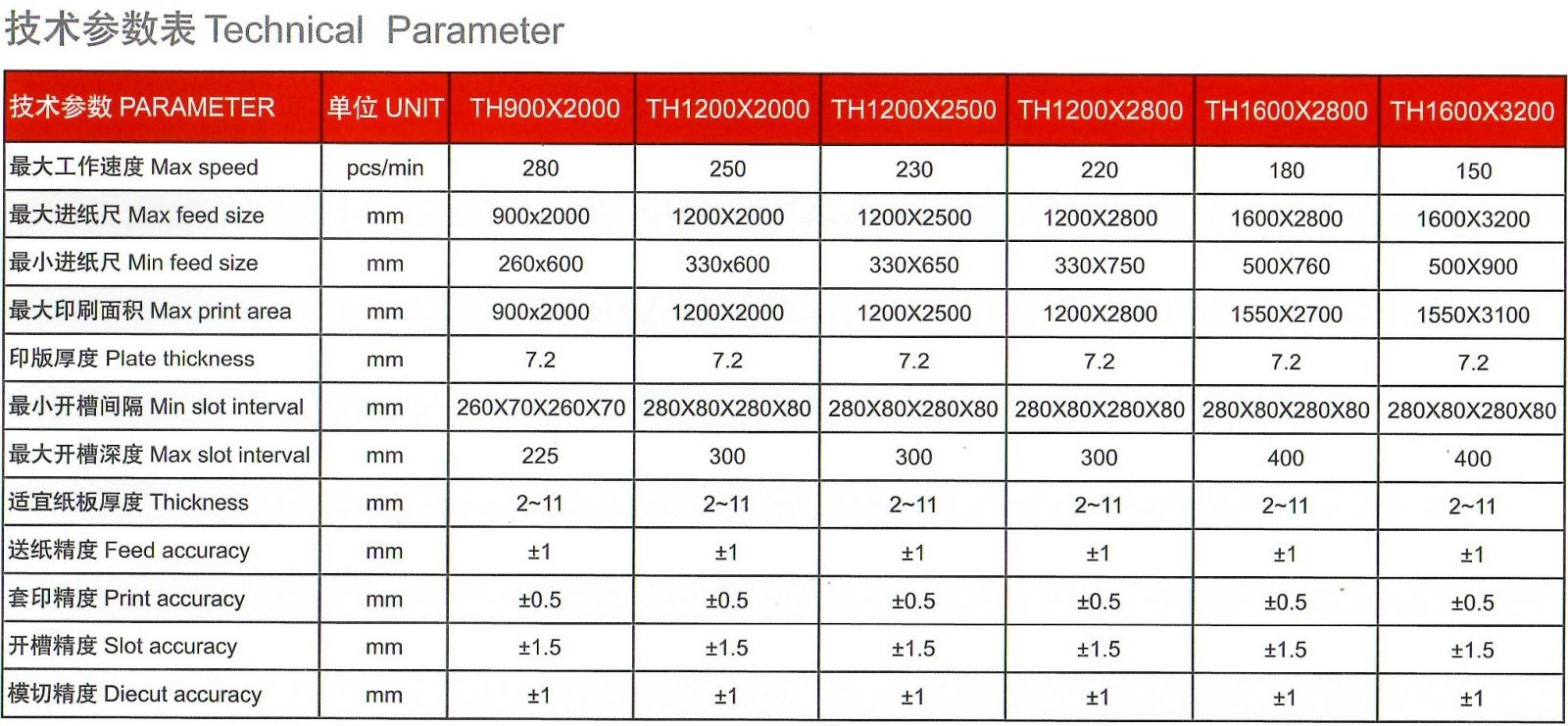 Feeding unit
High precision Full set lead edge system of SUN Automation, including Original feeding table and gearbox more stable, more reliable, long life,

Suction strength adjustable by the inverter to feed different kinds of board.

Lead edge feeding assisted by feeding roll (or Vacuum transfer out as option), feeding roll is mainly suitable for 5 plyboards, Vacuum transfer is mainly suitable for 3 ply board especially for micro flute boards and warped boards.

Dust removal suction blower system with three rows of brushes to clean the dust before printing

Side plated and brak rack auto position by the touch panel input

Computerized feeding interval; set 0-12mm.

Computerized set the quantity of continuous feeding, real-time display the feeding quantity

Main motor protection device, if not locked properly, it stops working.

Transfer roll with tungsten donated, high hardness, high precision, long life
Printing unit
Full stage Original SUN vacuum transfer system for more precise image registration

Optional sun Automation single-doctor blade system for uniform and precise ink metering

Praxair anilox roll is used, ink cells not easily blocked. Anilox roll could be cleaned independently without machine power off.

Ink supply by an able diaphragm pump system, auto alarm when ink lacks.

Quick plate hanging system, plate easy mounting with pedal switch control forward and back

Print cylinder axial movement ±10mm computerized

Registering by inverter control, dual speed for the quick response and more accuracy.

Quick change design for Anilox roller and rubber roller easy replacement, witb=h full set of brackets equipped together.

Computerized feed interval setting 0-12mm

Optional device for IR hot wind and link -stir device.
Slot unit
Using presciring-creasing-feeding-slotting structure, so as for better scoring effect

Upper pre-scoring wheels and creasing wheels has PU wrapped so as not to hurt the board.

All sharft is made of solid stainless steel withsecond ground & chromed plated.

Slot blade and edge blade has hardness of HRC60-63.

Computer setting prescoring creasing feeding and slotting intervals from 0-12mm.

Registering by inverter control, dual speed for quick response and more accuracy.

Slot disc axial movement computerized and driven by ball crew and linear guide.

Case height computered setting with four blades interlock.

Flexible Corner cutting device for three vad five layer board, no need to adjust.
Diecut unit
Registeing by Siemens Serv control, more stable.

Anvil cylinder speed compensation system to maintain the diacut accuracy.

Computer setting die-cutting and feeding intervals 0-12mm.

Diecut cylinder axial movement ±10mm computerized.

Anvil cylinder axial movement ±20mm continuosly by hudraulic so as to dispense abrasion.

Boards feeding by guiding wheels on the feeding rollers with sefl-lock structure.

Anvil cover repair device to extend Anvil life.
Dryer unit
Vacuum stransfer design with feed roll tungsten carbide coated, more prcise and longer life.

1.2m dedesign on tranferring derection, enough space for ink drying at high speed.

Inverter controlled high-power blow with flexible adjustment.

Advanced IR dry system, equipped with temp control and safety protection device.

Easy to set temperature according to print requirement, max temperature 150C.
Stacker
Stacking height: 1700mm. by motorized worm gear up/down assiste by balance weight.

Paperboard holder auto catch the board when ereaching to the stacking height.

2-stage conveying belt, first one by pneumatic up/down and has optional stripping device, easy to operate.

Use high-quality anti-slip conveying belts, prove no slip within 30 angle. Movable auto patting device, to make the piles much neat.

safety funtion via sensor to make protection when stacker lower down.
TG Series Floor Plan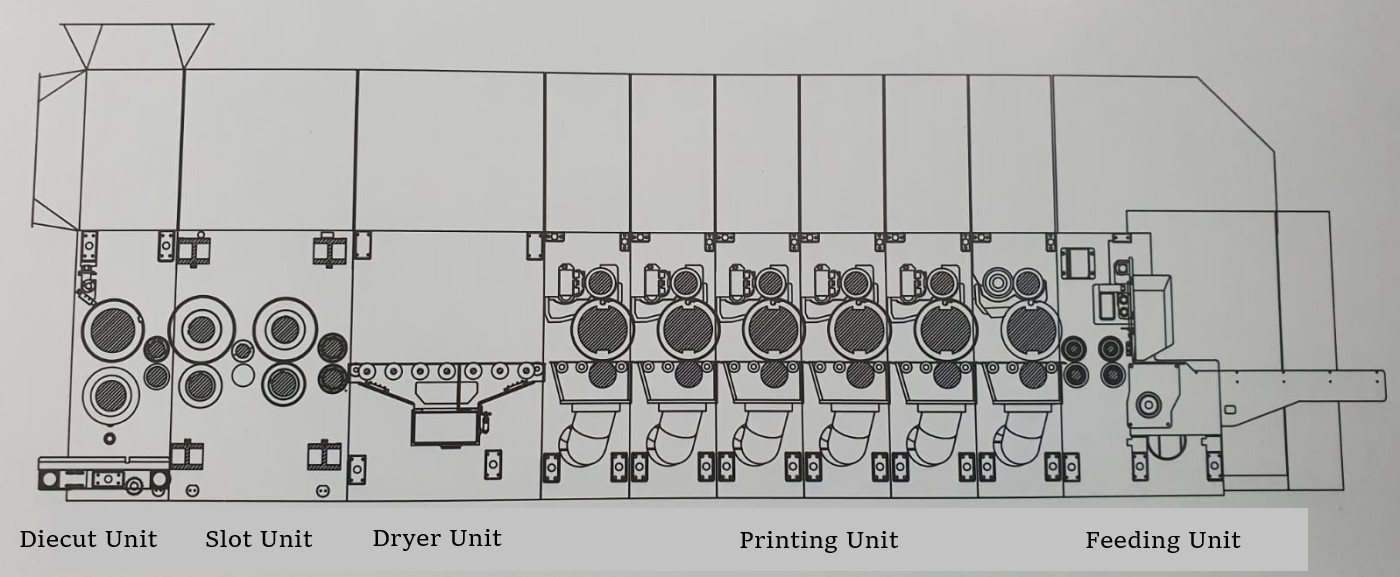 High-Speed Automatic Flexo Print Slot Diecut machine With stacker is mainly divided into five parts, respectively Diecut Unit, Slot Unit, Dryer Unit, Printing Unit, Feeding Unit
High-Speed Automatic Flexo Print Slot Die-cut machine With stacker
Check the specifications
Guangzhou Taixing Machinery CO. Ltd,

set up in 2019, is a high-end leading manufacturer with proven expertise and experience in corrugated board machinery. Year of professional experience in lathe and printing machinery, over 30 national patents and property rights, the application of

Sun Automation technologies

and a most sophisticated system of quality control management place Taixing Machinery as the leader in the corrugated board equipment manufacturer. We take a no-compromise attitude in procuring superior quality components to ensure a long, trouble-free operational life of our equipment.



Sun is a stable and reliable world-renowned American brand. The combination of our company and Sun's innovative technology ensures accurate printing and plays a very important role, such as slotting and paper feeding Units.
Help center
No.69, Tran Quoc Hoan Str., W.4, Tan Binh Dist. Hochiminh City - Vietnam
Related Products