High-Speed Automatic Flexo Print Slot Diecut machine With stacker
Whole Unit
Designed by EURO standard, based on the high requirement, high reliability, and safety

Computerized control, orders in storage, quick order change, easy operation

Wall made by high grass steel, 65mm thickness, remove internal strength and processed by CNC machine center.

Full stainless steel cover for operating side, anti-corrosion, easy cleaning.

All gears made by Taiwan top brand, high precision, easy cleaning.

Spray type lubricating system, lubricating oil; auto balance

Memory function for all print, slot, and Dia cut unit, auto position return

The main drive part applies the key-less ring to reduce abrasion and maintain print registration accuracy.

All the bearings are Japanese and German Brands.

All the electric components are famous Euro brand with quality guaranteed
TG Series Floor Plan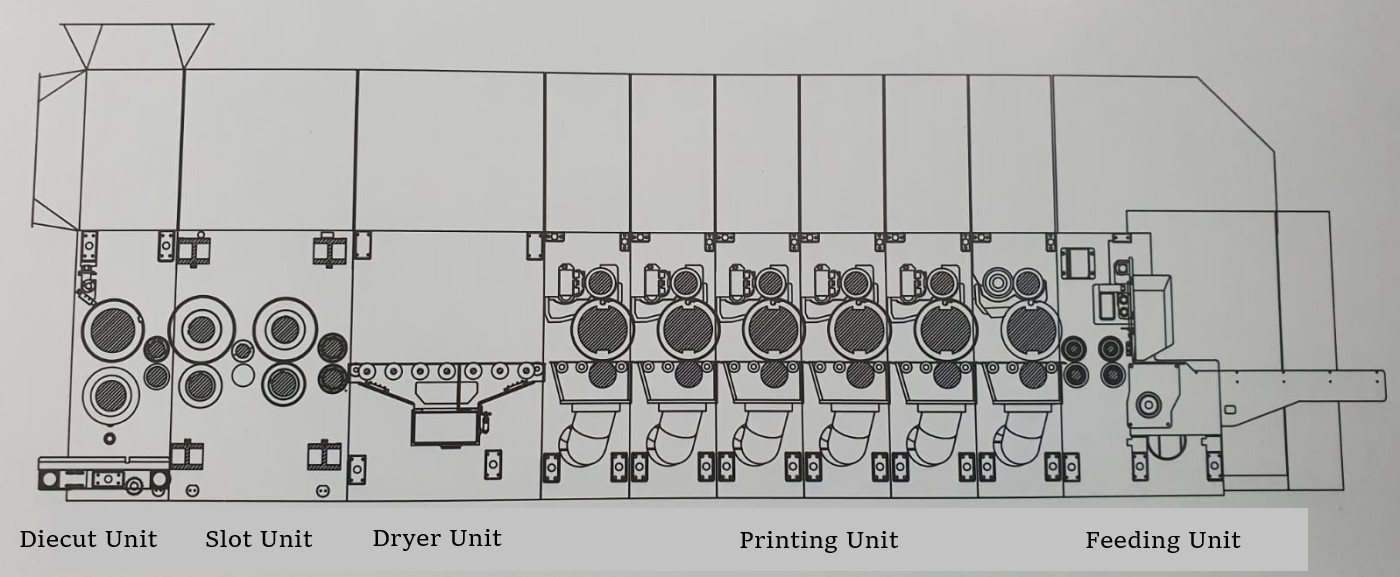 High-Speed Automatic Flexo Print Slot Diecut machine With stacker is mainly divided into five parts, respectively Diecut Unit, Slot Unit, Dryer Unit, Printing Unit, Feeding Unit
Technical Parameter
| | | | | | | | |
| --- | --- | --- | --- | --- | --- | --- | --- |
| Parameter | Unit | TH900X2000 | TH1200X2000 | TH1200X2500 | THI1200X2800 | TH1600X2800 | TH16003X3200 |
| Max speed | psc/min | 280 | 250 | 230 | 220 | 180 | 150 |
| Max feed size | mm | 900x2000 | 1200x2000 | 1200x2500 | 1200x2800 | 1600x2800 | 1600x3200 |
| Min feed size | mm | 260x600 | 330x600 | 330x650 | 330x750 | 500x760 | 500x900 |
| Max print area | mm | 900x2000 | 1200x2000 | 1200x2500 | 1200x2800 | 1550x2700 | 1500x3100 |
| Plate thickness | mm` | 7.2 | 7.2 | 7.2 | 7.2 | 7.2 | 7.2 |
| Min slot interval | mm | 260x70x260x70 | 280x82x280x80 | 280x80x280x80 | 280x80x280x80 | 280x80x280x80 | 280x80x280x80 |
| Max slot interval | mm | 225 | 300 | 300 | 300 | 400 | 400 |
| Thickness | mm | 2-11 | 2-11 | 2-11 | 2-11 | 2-11 | 2-11 |
| Feed accuracy | mm | ±1 | ±1 | ±1 | ±1 | ±1 | ±1 |
| Print accuracy | mm | ±0.5 | ±0.5 | ±0.5 | ±0.5 | ±0.5 | ±0.5 |
| Slot accuracy | mm | ±1.5 | ±1.5 | ±1.5 | ±1.5 | ±1.5 | ±1.5 |
| Diecut accuracy | mm | ±1 | ±1 | ±1 | ±1 | ±1 | ±1 |
High-Speed Automatic Flex o Print Slot Die-cut machine With sacker
Check the specifications
Guangzhou Taixing Machinery CO. Ltd,
set up in 2019, is a high-end leading manufacturer with proven expertise and experience in corrugated board machinery. Year of professional experience in lathe and printing machinery, over 30 national patents and property rights, the application of
Sun Automation technologies
and a most sophisticated system of quality control management place Taixing Machinery as the leader in the corrugated board equipment manufacturer. We take a no-compromise attitude in procuring superior quality components to ensure a long, trouble-free operational life of our equipment.

Sun is a stable and reliable world-renowned American brand. The combination of our company and Sun's innovative technology ensures accurate printing and plays a very important role, such as slotting and paper feeding Units.
Help center
No.69, Tran Quoc Hoan Str., W.4, Tan Binh Dist. Hochiminh City - Vietnam
Related Products